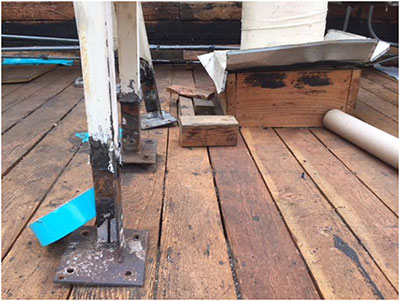 Ellis recently administered the removal of a 6" layer (yes, you read that correctly) of built-up roofing felts at a major international film studio in southern California. HVAC equipment had been jammed into a small roof space for years, making access difficult. The project presented additional obstacles:
The removal had to be performed at night when employees weren't working.
In order to be compliant with city noise ordinances, the abatement work crew had to modify their removal techniques to reduce noise levels.
Removal of softer materials, such as mastic on wood deck and foam roof insulation, were therefore done during the night. Removal of metal materials (which created noise) was done early in the morning.
Ellis managed and monitored the abatement effort, and also provided "real time" sound pressure level monitoring.
This project is a favorite of Ellis employees because of the dual challenge of the scope of material removed and the work constraints.