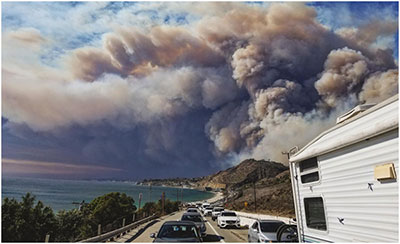 Testing for Air Quality and Soot, December 2018
The Woolsey fire in Los Angeles County burned more than 1,500 structures and forced the evacuation of over 250,000 people. After the fire was controlled, residents were anxious to get back to their homes and businesses. Schools, nursing homes, and hospitals also needed to respond to the special health concerns of their occupants. Ellis assisted by conducting post fire sampling at several sites.
Using hand-held particulate counters, Ellis conducted air monitoring for lingering fire particulates: Ultra-Fine Particles (UFPs, a component of smoke), nuisance dust and respirable dust were primary health concerns. All were measured in real-time with pre-calibrated, Ellis-owned electronic monitoring devices.
Because soot is a known carcinogen, Ellis also sampled playgrounds, sand, and sawdust. Soot can only be differentiated from (more common) ash particles by collecting bulk samples and submitting them to a certified lab for analysis with an electron microscope.
This project is a favorite of Ellis employees because we were among the many who were able to help the people in need.